Call for Posters

Young researchers: students, postdocs and scientists submit a poster for presentation at the Nano and Microtechnologies for Medicine Workshop 2019. Three best posters will be selected for the M. Ghaderi Award, UCLA-CTSI Science Translational Award, and Micromachines Award with a $1,000 cash prize for each award.

Abstract submission is EXTENDED to June 15, 2019.
The Center for Minimally Invasive Therapeutics (C-MIT) is delighted to host the 7th annual workshop on "Micro- and Nanotechnologies for Medicine: Emerging Frontiers and Applications" this coming summer. Advances in micro- and nanotechnologies are presenting new avenues for both researchers and clinicians to explore in their quest to improve diagnostics, therapy, drug delivery and regenerative medicine. In this workshop, participants will acquire the fundamentals and advances in the fields of three dimensional bioprinting, bioMEMS, biomaterials and tissue engineering.  Leading experts will present the latest advances in the development of novel micro- and nanotechnologies and address a range of different challenges that are of importance to biomedicine at the interface of engineering, medicine and biological sciences.
This year, CMIT partners with 3D Heals presenting the Los Angeles Entrepreneurship and Commercialization Workshop featuring success stories from Chandler Robinson (MonoPartx), Gurdane Bhutani (FundRx), Mike Kijewski (MedCrypt) and Jasson Crockett (City of Los Angeles); followed by a pitch competition. Register here for the competition.
---

Sessions
Biomaterials ● Tissue engineering ● Microfluidics
Medical devices ● Bio-nanotechnology
Nano-technology ● Commercialization
---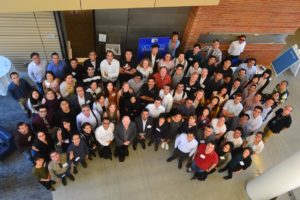 Workshop Group Photo from 2018
Download the Workshop Flyer.
---
Sponsors